On October 9, 2015, ICTINEU 3, made his first scientific campaign in an archaeological site, the wreck of Cala Cativa I, which is located in front of the coast of Port de la Selva (Girona) more than 30 meters deep , and, wich is studied for the first time.
Thanks to the collaboration between the Centre d'Arqueologia Subaquàtica de Catalunya (C.A.S.C), managed by the Agència Catalana del Patrimoni Cultural of the Department of Culture, and ICTINEU Submarins SL, it was possible to access this underwater site, discovered 121 years ago by Romualdo Alfaras, a scholar neighbor from Port de la Selva and a pioneer in underwater archaeology.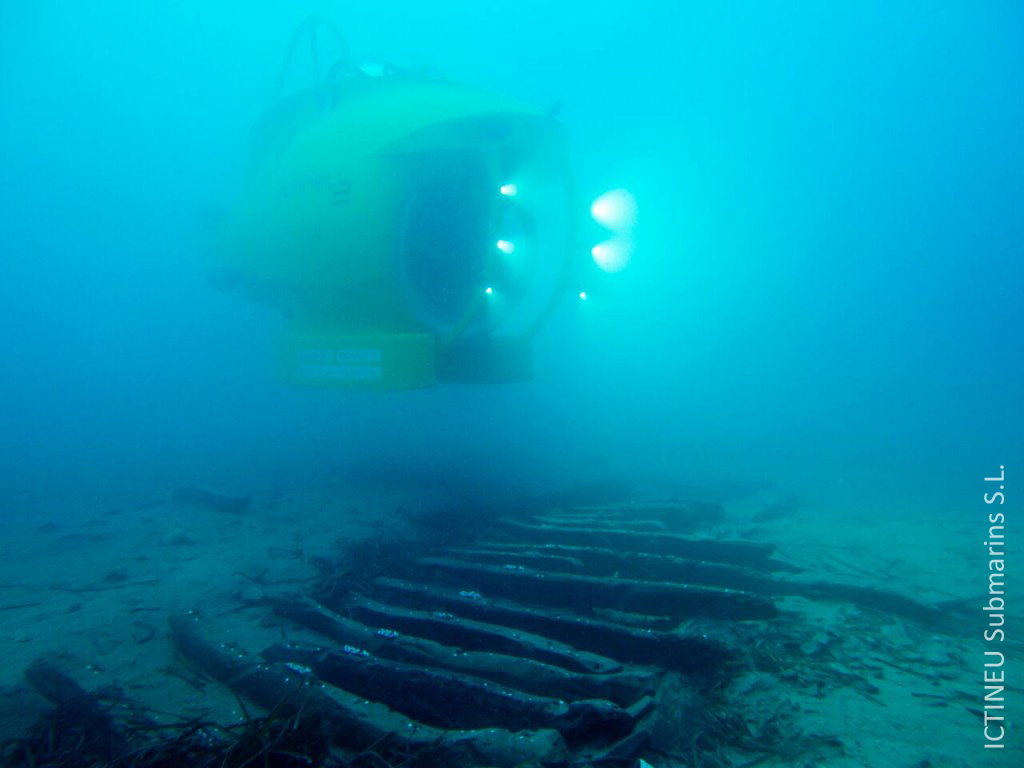 In this mission, Cala Cativa I, the underwater archaeologists were able to analyze the remains that are preserved.
It is a 8-9 meters length ship dated in the 1st century BC, and that would present the same features of naval architecture as the Cap del Vol wreck, which are typical of the Iberian world. Thus, the idea of an Iberian construction is further reinforced since this boat, being smaller, would be presenting a local cabotage navigation. The joint work of the underwater archaeologists of the CASC and the ICTINEU 3 submersible, has also allowed to create the bases of procedures and protocols to be able to operate in deeper sites, up to 1,000 meters.
In addition to ICTINEU 3 technology, it has been possible to count on the collaboration of the Department of Anthropology of the University of Southern California testing new registration technologies based on several suitable Ipads in waterproof cases, allowing a computerized real-time documentation of the ship's remains.
Dives information:
Location: Port de la Selva (Catalonia)
Dates: October 6, to October 9, 2015
Number of Dives: 11
Maximum depth reached: 53m
VIDEOS