The ICTINEU 3 submersible, participates in an archaeological campaign on Lake Garda, (Italy), inspecting an American amphibian vehicle sunk three days before the end of World War II.
From the 28th September to 5th October 2018, at Riva del Garda in northern Italy, a team from Promare, a non-profit underwater archaeology foundation, led by (two of the founders of ProMare) were conducting an extensive survey of the DUKW and the area around it in Lake Garda with the Ictineu-3 submarine. ProMare is a non-profit corporation and public charity established in 2001 to promote marine research and exploration.
Historical context
On the 30th April 1945 this American amphibious craft known commonly as a DUKW left the little town of Torbole on the north western shore of the Lake, heavily over loaded with 26 men, a 75mm howitzer gun and ammunition. It was part of a convoy of DUKW's travelling under the cover of darkness to the town of Riva del Garda.
During the lake crossing, the vehicle's engine quit and a sudden violent storm whipped up large waves causing the DUKW to sink. The vehicle sank and twenty five of the twenty six men on board perished, the only survivor of the fateful night was Cpl. Thomas Hough, a former lifeguard from Dayton, Ohio.
This is not the first time Brett Phanuef and ProMare have come to Lake Garda as in 2004 they under-took a mission to find the sunken vehicle, but they were unable to locate it.
Only many years later in December 2012 after many hours of searching (17 sonar outings, covering an area of over 7 million square meters) the local volunteer group, Gruppo Volontari del Garda located it lying at the depth of 276 meters.
The Association Benàch the local history society based in Torbole have been researching this event and the liberation of Torbole by the men of the U.S. 10th Mountain Division. Through their research they have traced a number of relatives of the DUKW victims, some of whom even visited Torbole.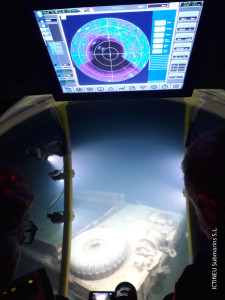 In 2016 under the initiative of U.S. Army Ranger Rick Tscherne, Ranger Perry Doerr and Ron Hudnell Special Forces and Ben Appleby from the Association Benàch and thanks to the success of a crowd funding campaign, a monument was put up in memory of these 25 men who are still listed as missing in action.
Antonella Previdi and Ben Appleby from the Association Benàch have been in contact with Brett Phanuef and are organizing local support for the underwater survey and a commemoration ceremony at the end of the week.
GALLERY